Protect yourself from fraud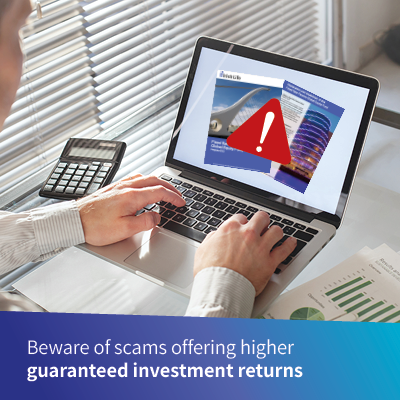 (
Protect your personal information
Is it too good to be true?
Suspicious communications
Cold calls and unsolicited e-mails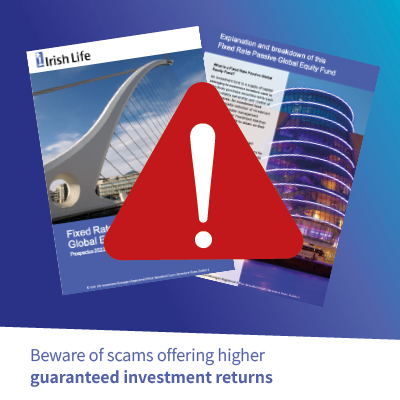 How can I check if a financial product provider is genuine?
Unfortunately, some financial criminals approach their victims pretending to a legitimate financial provider, financial adviser or broker. It's important if you are contacted by a new financial professional that you check they are authorised.
Providers of life, pension and investment services in Ireland must be authorised by the Central Bank. You can check their list of authorised providers here http://registers.centralbank.ie/ or call the Central Bank on 01 224 4000.
If you have been contacted by somebody from Irish Life or about an Irish Life product and are unsure if is genuine, you can check by e-mailing us at corporateinvestigations@irishlife.ie.
Contacting Irish Life safely
The main contact details for Irish Life Financial Services customer service team are below
Phone: 01 704 1010
e-mail: customerservice@irishlife.ie
At Irish Life our customers' security is our top priority. When you contact our customer service team, we will ask you security questions to check your identity. This includes your name, date of birth, address as well as other security questions. We will never ask you for any login information or passwords for accessing your products online.
Fraudulent activity to be aware of
We will keep this section up to date with potential frauds reported to us by consumers and our intermediaries.
March 2022 - Fraudulent Investment Product
Irish Life has become aware of fake product information being promoted by fraudsters.
This fraudulent product is called the "Fixed Rate Passive Global Equity Bond Prospectus 2022". This is a scam and Irish Life does not offer any product by this name.
Members of the public should not engage with any person promoting this fraudulent investment scheme. Anyone who has been approached regarding this fraudulent product should notify Irish Life at corporateinvestigations@irishlife.ie or contact the Gardai.
Useful Websites